About Us
We design looks and lives that inspire creativity, radiate optimism and encourage connection. We make every day artful.
Our Story
The ampersand symbol connects two separate elements together — making it the perfect name for our company, started by Carrie Kiefer & Morgan Georgie in 2010. Together, the two friends design artwork and lifestyle pieces for modern, everyday living. And while the inspiration for each piece is different, the intent is always the same: to connect you with something that brightens your space, your day and your life.
View our portfolio
Our Founders
Carrie & Morgan met in design school and have been inseparable ever since (they live five minutes apart from each other with their sweet husbands and kiddos). Their signature is in their shared design aesthetic, and while they each have their own creative outlets, they merge their viewpoints seamlessly to create pieces that are eclectic yet harmonious.
Our Style
We design looks and lives that inspire creativity, radiate optimism and encourage connection. Our patterns are bold, our colors are bright, and the sophisticated way they play together is what makes our work unique. We create each piece using paint, cut paper, pen and ink (honestly, anything we can get our hands on!) and we love incorporating typography and hand-drawn lettering into the mix.
Our Products
Everything we sell is designed at our studio in Kansas City.
Our art has found its way onto wallpaper, home décor, stationery, apparel and
more, and it's also sold by brands you know and love, such as Crate & Kids,
West Elm and Target. We aim to be less of a burden on the environment and more
of an asset to our community — bringing ideas to life with soy-based inks and
recycled materials, and designing prints for charities and non-profits.
shop bestsellers
Flagship Store
Our Kansas City flagship store is now open!!!
Come visit us at our new flagship store in Waldo!
We are thrilled to open up a new shop at the front of our working studio
to share all of our favorite products in one place! Come on by and visit us!
LOCATION: 211 E Gregory Blvd, Kansas City, MO 64114
Current store hours:
Sunday-Wednesday: 9am-2:30pm
Thursday: 9am-6pm
Friday: 9am-2:30pm
Saturday: 9am-5pm
Visit Us
If you're in the Kansas City area, be sure to stop by our brick-and-mortar locations within the Made in Kanas City markplaces.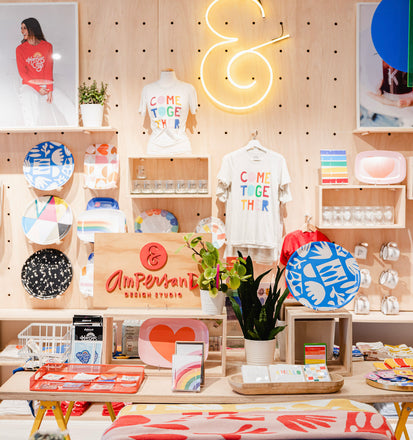 The Plaza Store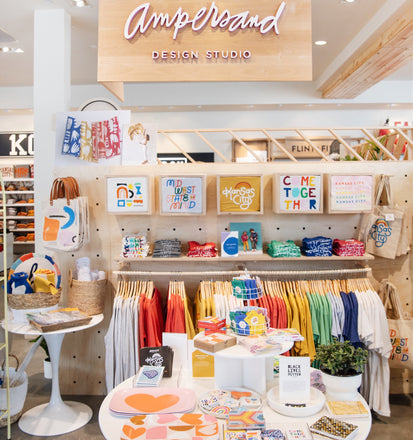 The Lee's Summit Store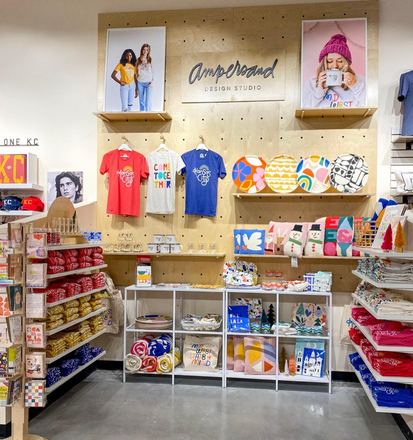 The Lenexa Store
Noteworthy Press & Features
We've been so honored to grace the physical and virtual pages of these fabulous magazines, newspapers & sites! Thanks to you all for the wonderful features!

For press inquiries, contact us at hello@ampersanddesignstudio.com
HGTV Magazine, July/August 2021
Little U Vol 3, July 2021
Midwest Living, February 2021
Missouri Home of Lisa Shmitz
HGTV Magazine, May 2021
Color Pop
IN Kansas City magazine, March 2021
An Ode to the Color of Hope, Spring,
and the New Year
IN Kansas City magazine, January 2021
A Vintage Fairway Ranch Lightens
Up in a Fresh Remodel
IN Kansas City magazine, October 2020
National Brands, Local Roots
Meet the People and Business Putting
Kansas City on the Map
West Elm,
International Women's Day 2020 feature
IN Kansas City Magazine, December 2019
What's the Boldest Color You've Ever Used?
Furbish Studio, June 2019
Loud & Proud Edit
Forbes, January 2019
Me & My Side Hustle
Origin Magazine,
Field Trip Show Artists, April 2019
Made in Kansas City Catalog, April 2019
Maker Profile
IN Kansas City magazine, March 2019
5 things you don't know about me
Crate&Barrel, March 2019
Collaborations, Connection & Creativity
She Makes Us Crate
Better Homes and Gardens, Feb 2019
Kids Rooms
Johnson County Lifestyle, Feb 2019
Gift Locally
Print and Pattern, April 2018
NEW WORK - Ampersand Design Studio
Startland News, April 2018
MIKC launching Country Club Plaza
HGTV, Jan/Feb 2018
Fun Decorating
Midwest Living, Jan/Feb 2018
12 Ways to Maximize your Office Space
HGTV, August 2017
How to Style a Bookcase
KC Star Spirit, May 2017
Everything's coming up rainbows…
HGTV, April 2017
10 Pops of Color for the Kitchen
Domino, March 2017
An Outgrown Baby Room…
New York Magazine, January 2017
Kids' Furniture is the Best…
Spaces, November 2016
Ampersand at Target
Domino Magazine, May 2016
33 Best Throw Pillows
Style By Emily Henderson, April 2016
18 No Fail Pillow Combos, #12 Abstract
Print & Pattern, February 2016
New from Ampersand: The Land of Nod
Print & Pattern, September 2015
Kids Design, The Land of Nod
The Washington Post, February 2016
New nursery decor with style
Shawnee Mission Post, November 2015
Design Studio… to Johnson Drive
Uppercase Magazine, January 2015
Issue 24: Surace Pattern Design Guide
Print & Pattern, February 2015
Fabrics - Ampersand
California Home & Design
15 Electrifying Home Accessories
Country Living, May 2015
Porching Picks
Lonny, April 2015
25 Things from Land of Nod
Rue Magazine, January 2012
Apt 34 Gift Guide
Family Circle, May 2012
Character Preference
Front + Main / West Elm, August 2014
#WestElmLocal in Kansas City
Kansas City Magazine, April 2014
The top 100 issue
Babiekins Magazine, January 2014
Neon Ampersand print
Spaces Magazine, Decemeber 2013
Seeing Things in Black & White
Playing with Type, March 2013
Rockport Publishing
Better Homes & Gardens, Jan 2013
Now & Next
Better Homes & Gardens, April 2013
Blue for Two
Real Simple
Modern Wall Art
Print & Pattern, October 2012
Fabrics from Ampersand Design Studio
The Kansas City Star, September 2012
Neons are back